Agri Dept observes Ladakh Kisan Diwas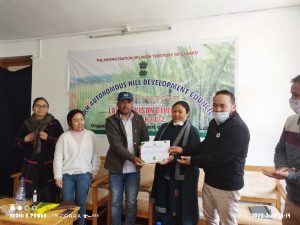 Leh, 28 March: Agriculture Department observed Ladakh Kisan Diwas at Nyoma and Khaltse sub-divisions under the theme 'Organic Farming towards Healthy Life'.
At Nyoma sub-division, SDM Jigmet Angchuk presided over the Ladakh Kisan Diwas occasion in the presence of Councillor, Nyoma, Ishey Spalzang.
Farming booklets, waste decomposers, VIR-90 peas seeds were distributed to the participants.
The best farmers were felicitated with certificates as well.
Chairperson, Block Development Council, Nyoma, Urgain Chosdon; Assistant Director, Pashmina Goat farm, Nyoma, Dr Mohammad Ramzan; Agriculture Extension Officer Input, Dr Tsering Dolkar; Panch members, Nambardars and about thirty farmers of surrounding villages attended the event.
Similarly, at Khaltse sub-division, the Ladakh Kisan Diwas was observed in the presence of Councillor, Khaltse, Lobzang Sherab and Incharge Sub-Divisional Magistrate, Khaltse, Tanveer Ahmad.
Several progressive farmers were accorded appreciation certificates for their performances.
Agriculture Extension Officer, Khaltse; Veterinary Assistant Surgeon, Khaltse; Project Officer, Pradhan Mantri Krishi Vikas Yojana (PMKVY), Khaltse; Sarpanch; staff of the concerned department and people from different villages of the sub-division participated in the event.