Advisor Umang Narula takes stock of road opening and essential commodities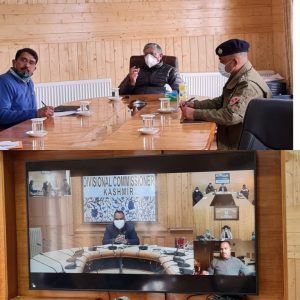 Leh, April, 17: "Every effort is being made to open the Srinagar-Zojilla-Leh Highway by the BEACON around the 19th or 20th of April braving inclement weather", informed Col Mukesh the project commander BEACON in a meeting chaired by the Advisor Ladakh, Umang Narula today.
It was informed that even though there is a prediction of snowfall around the 20th- 22nd April the BEACON and the VIJAYAK project of BRO will make allefforts to make the highway vehicle worthy for transporting essential commodities into Ladakh specially looking at the requirements of the people in the Holy month of Ramzan.
Advisor Ladakh also discussed in detail the arrangements required to be put in place by the Kargil and Ganderbal Administration. He raised the issue of activation of telecommunication services on the Kashmir side and other requirements with the Divisional Commissioner, Kashmir Pandurang K. Pole and the DC, Ganderbal Krittika Jyotsna and her team of officers.
The Divisional Commissioner, Kashmir undertook to provide every required support such as fallback accommodation, emergency medical assistance, mechanical recovery van support and coordination with telecom service providers.
The District administration Ganderbal signalled its readiness to ensure smooth passage of vehicles from Ganderbal towards Ladakh in coordination with the District Administration of Kargil.
Advisor, Umang Narula while complimenting the BRO authorities for their exemplary work in December 2020 which allowed smooth vehicle movement upto 31 December, again urged the BRO to make all efforts and ensure movement of essential commodities at an earliest.
DC Kargil, Santosh Sukhdeve who attended the meeting with his team of officers comprising SP Kargil, Aniyat Ali Choudhary, CMO Dr Munawar Wazir and others apprised of medical screening arrangements, traffic arrangements, and regular road maintenancearrangements that has been put in place in anticipation of the opening of Zojilla shortly.
Divisional Commissioner, Ladakh, Saugat Biswas apprised the Advisor that till date 76 thousand kgs (76 tons) of vegetables,fruits, meat etc. have been airlifted for Kargil district in this winter. He further informed that in keeping with the special requirements for the month of Ramzan, arrangements have been put in place for airlifting another 40, 000 kg of essential supplies for District Kargil and equal amount will also be airlifted if required for Leh district. Both the DCs of Leh and Kargil are coordinating the movement of essential supplies into Ladakh both by air and road informed Biswas.
SP Traffic Mohd Rafi Giri further informed that trucks carrying various supplies have been entering Ladakh on and off and it is expected that 50-80 trucks laden with essential supplies will enter from the Manali Leh Highway within the next few days.
Advisor Narula urged all the concerned officers to put in every effort for opening the highway on both Kashmir and Manali sides quickly and ensure a steady supply of essential commodities by air till the roads open on a regular basis.
The meeting was attended by Divisional Commissioner, Kashmir; Divisional Commissioner, Ladakh; Deputy Commissioner Kargil; Deputy Commissioner, Ganderbal; Chief Engineer, BEACON; Chief Engineer, VIJAYAK; SP Kargil; SP Ganderbal; SP, Traffic Ladakh; SP Traffic (Rural), Kashmir and CMO Kargil.