Advisor Narula inaugurates 6th National Geo-Research Scholar's meet 2022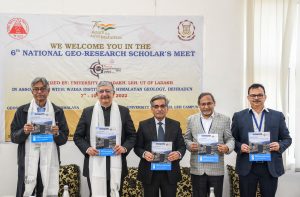 Leh Jun 08:- Advisor UT Ladakh Umang Narula presiding as the chief guest inaugurated the 6th National Geo-Research Scholar's meet 2022 at Leh campus of the University of Ladakh. Nearly 100 research scholars covering 48 pan-India Universities and institutions are participating in this four-day event.
Advisor Umang Narula who is also the Pro-Chancellor of the University of Ladakh appreciated the UoL for organising this study-cum-exposure tour. He said that Ladakh is a rich and varied geological repository and this region provides an opportunity to investigate and understand various geological, tectonic control, glacial melt, and climate change processes. Such study-cum-exposure tours provide various opportunities for the research students to interact with experts and also help to develop local competencies. He further said that in Ladakh such research and findings are crucial for policy and decision-making and would also prove to contribute substantially towards framing ways for holistic development of the Ladakh region and facilitating ease of living of the people living here.
This programme is being organised by the University of Ladakh (UoL) in association with the Wadia Institute of Himalaya Geology (WIHG), under Azadi Ka Amrit Mahotsav celebration, to undertake socially-relevant research toward the sustainable development and prosperity of the Himalayan region; community-driven programmes for viable use of bio-resources of the region; encourage interactions and sharing of expertise and knowledge between personnel, scientists, and research fellows; establish a partnership programme between UoL and WIHG that will be accessible to the scientists, students, and their staff, etc.
The theme of NGRSM-2022 is 'Geosciences in Ladakh Himalaya'. The sub-themes of NGRSM-2022 are Fold belts & Cratons of India; Climatic change & Geological processes; Natural Hazard & Mitigation; and Geo-Resources. The four-day event is being organised by the University of Ladakh (UoL) in association with the Wadia Institute of Himalaya Geology (WIHG).
Geosciences, the study of the earth, also called Earth Science, studies the processes that form and shape Earth's surface, the natural resources we use, and how water and ecosystems are interconnected.
On the occasion, Chairman WIHG Prof Talat Ahmed spoke at length about the importance of the geological features of Ladakh at the national as well as international platforms and said that this study tour in Ladakh would be conducted in the Mahey-Sumdo and Leh to Alchi sections.
Vice-Chancellor UoL Prof SK Mehta while briefing about the importance of geo-research also mentioned the signing of the Memorandum of Understanding between UoL and WIHG to strengthen earth sciences in the Himalayan region and to establish the University of Ladakh as a center for research in geosciences.
Director WIHG Prof Kalachand Sain, Director Leh Campus (UoL) Konchok Angmo, and Convener NGRSM 2022 (UoL) Dr Riyaz MK Khan also spoke on the occasion.
Secretary Tourism & Culture UT Ladakh KAcho Mehboob Ali Khan, Chairman WIHG Talat Ahmed, Vice-Chancellor UoL Prof SK Mehta, Directors, Professors, scientists, faculty, research scholars, students of UoL and WIHG, and officers of various research institutions of Ladakh were also present and the Abstract Volume was also released by the chief guest and other guests. Later, the chief guest also visited classrooms, hostel block, and heritage site in the UoL's Leh Campus. He was accompanied by VC University of Ladakh Prof SK Mehta, Secretary Tourism Kacho Mehboob Ali Khan and other officers of the university.