Advisor Narula exhorted utilizing available research outputs in policy making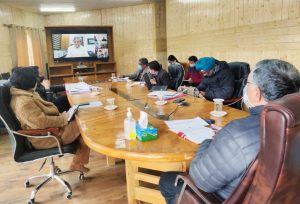 Leh,April, 06 : The UT Administration of Ladakh organized a webinar of research-based organisations to develop an institutional set-up for applied research that would address various developmental issues and challenges of UT Ladakh.
Advisor Ladakh, Umang Narula chaired the meeting and addressed the participants. He stated that the Administration is keen to know about the ongoing research work of various organisations and institutes that could be beneficial for Ladakh. He further stated that the UT administration would like all available and relevant research findings in different areas to be utilized in formulating development plans and policies by the administration.
The participating institutes and organisations informed the meeting about the large number of research projects concerning Ladakh being undertaken by them and the data and outputs available with them.
Various models of institutional setup followed in other States and UTs were discussed and deliberated upon with a view to utilizing the results of applied research on a real-time basis in decision making particularly in the areas of climate change, high altitude agriculture, water and disaster management.
Chief Conservator of Forest, Preet Pal Singh: Secretary, Padma Angmo; Secretary, Ravinder Kumar, Ms Rita Khanna, Advisor, MoEF&CC, Director, DIHAR, O.P Chourasia: Dr Shubrat Sharma, Scientist F, GB Pant National Institute of Himalayan Environment Regional Centre, Leh and representatives of various research institutes participated in the webinar.
The participating organisations and institutes included the Department of Science and Technology Government of India, Wadia Institute of Himalayan Geology, Dehradun, Uttarakhand, Indian Institute of Remote Sensing (IIRS), Dehradun, National Remote Sensing Centre, Hyderabad, Space Application Centre, Ahmedabad, Indian Institute of Astrophysics, Banglore, Himalayan Forest Research Institute (HFRI), National Institute of Sowa Rigpa,Leh, National Institute of Hydrology, Roorkee and the University of Ladakh.
The Advisor thanked all the participants and stated that their suggestions and feedback would help UT Ladakh to have a more integrated approach and help the UT Administration to utilize the research outputs for achieving tangible results.