Advisor Ladakh reviews arrangements for 73rd Republic Day celebrations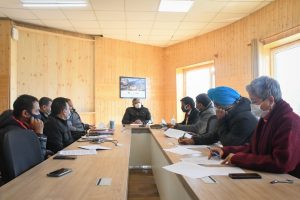 Leh, December 30: Advisor to the Hon'ble Lt. Governor, Ladakh, Umang Narula convened a meeting to review the arrangements for the 73rd Republic Day, 2022, celebrations, at UT Secretariat.
During the meeting, it was decided that the main function will be held at Polo Ground in Leh and the Hon'ble Lt. Governor, Ladakh, will unfurl the National Flag. The Republic Day function in Kargil will be held at the Khree Sultan Chow Stadium.
Advisor Narula directed the concerned officials to ensure that Republic Day celebrations strictly adhere to the Covid-19 protocols and make arrangements accordingly. It was decided that attendance for the event would be only by invitation in view of Covid-19 restrictions and seating arrangements shall be made as per social distancing norms. Selected Covid Warriors, ex-servicemen and persons with disability would be invited for the National function. The event would be webcast live for a wider reach.
The Indian Air Force agreed to carry out a flypast on the occasion. The Deputy Commissioners (Leh and Kargil), Cultural Academy, and Youth Services and Sports Department shall conduct inter-school and inter-college online competitions centered around patriotic and nation-building themes through digital platforms. The winners of the contests will be announced on the day of the function. Besides, it was decided that the function would be celebrated under the overall banner of Azadi Ka Amrit Mahotsav.
The Advisor directed for setting up of medical facilities in and outside the venue and also keeping the required number of Critical Care Ambulances and medical teams. DC, Leh informed that contactless sanitisers shall be installed on the sides of the pavilion along with thermal screening of invited guests and participants.
Sh. Ajeet Kumar Sahu, Commissioner/Secretary, GAD, shared various aspects of arrangements such as the venue of the function, programme, including flag hoisting, speeches, marching contingent and band, number of cultural performances, security arrangement, illumination of government offices and buildings, refreshments, public address system, preparation of invitation cards, seating arrangements and decoration, traffic arrangements, air show by Indian Air Force and setting up of control room. Saugat Biswas, Divisional Commissioner, would be overall in-charge and coordinator for the function.
The Advisor also assigned arrangement responsibilities to various departments and committees as per the work requirement and instructed the concerned HODs to undertake the responsibility efficiently.
In attendance were Principal Secretary, H&ME Department; Commissioner/Secretary, GAD; ADGP; Divisional Commissioner; Secretary, Information Department; Secretary, Tourism and Culture; Deputy Commissioners, Leh and Kargil, who joined virtually; Head of Departments and other concerned officials from both Leh and Kargil.