Advisor Ladakh chairs first meeting of Executive Committee for monitoring Tribal Sub-Plan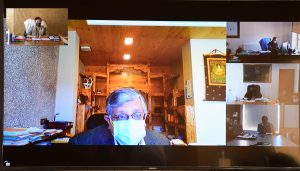 Emphasise on completing ongoing projects this year
Leh, June, 09: Advisor Ladakh, Umang Narula, who is also the Chairperson of the Executive committee for monitoring Tribal Sub-Plan, today chaired a meeting of the Executive Committee to discuss the Tribal Sub-Plan for the year 2021-22 of Leh and Kargil district.
Deputy Commissioners, Leh/Kargil, who are the chairman of the District Planning and Monitoring Committee (DPMC), placed the draft annual Tribal Sub-Plan 2021-22 before the Executive Committee for their consideration and approval.
Chairperson Narula directed the districts to take up projects that can be completed in one to two years and execute them in a time-bound manner. He further added that more solar projects should be encouraged to promote carbon neutrality in Ladakh.
Principal Secretary, Planning, Pawan Kotwal asked the DCs to identify ongoing projects where there are gaps in funding and the same may be met through the tribal sub-plan.
Administrative Secretaries gave their inputs regarding the project components related to their respective departments.
Chairperson, Umang Narula, instructed both the Deputy Commissioners to revisit the plan based on the inputs of the members of the Committee and submit the revised plan within a week.
The framework and proposal under the new scheme, Special Central Assistance for Tribal Development (SCA-TD), was also discussed in the meeting.
The meeting was attended by Administrative Secretary, Planning, Monitoring & Development, Health & Medical Education, Revenue and Forest Department; Administrative Secretary, PW(R&B) PHE, I&FC and School Education Department; Administrative Secretary, Rural Development, Industries & Commerce and Food, Civil Supplies & Consumer Affairs Department; Administrative Secretary, Social /Tribal Welfare, Information, Higher Education & Skill Development Department; Administrative Secretary, Tourism & Culture Department; Administrative Secretary, Power Development Department, Agriculture & Animal/ Sheep Husbandry Department; Deputy Commissioner/CEO/LAHDC Leh /Kargil and Director Social/Tribal Welfare Department.