Advisor Ladakh attends Standing Committee meeting of Northern Zonal Council at Shimla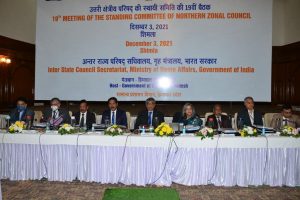 December 04, 2021: Advisor Ladakh, Umang Narula attended the 19th Standing Committee meeting of the Northern Zonal Council at Shimla.
The meeting was chaired by the Chief Secretary of the host state, Himachal Pradesh and attended by the Chief Secretaries of Delhi, Haryana, Rajasthan, Punjab, and UTs of Chandigarh and Jammu & Kashmir. The Standing Committee met to review the implementation of the recommendations made in the 29th Northern Zonal Council meeting and to scrutinise and filter issues/items sponsored for the consideration of the 30th Northern Zonal Council meeting.
The Committee reviewed the progress of the participating States/UTs on speedy investigation of cases of sexual offence/rape against women and children, implementation of the scheme of FTSC for ensuring speedy disposal and removal of pendency of rape and POCSO Act cases and issues relating to coverage of villages by bank branches/postal banking facilities.
Advisor Narula stated that investigations in cases of rape against women and children are being completed within the mandated 02 months period. Further sexual assault and POCSO cases in UT Ladakh are low in number to warrant the establishment of a Fast Track Special Court. On the issue of banking, Advisor Narula highlighted that despite remote and difficult geographical locations banking of villages in UT Ladakh has progressed.
However, some villages are still to be covered due to sparse population coupled with absent internet connectivity. Advisor Narula stressed on the need to have mobile-atm-vans fitted with v-sat to enable internet access in such remote and far-flung areas.
UT Ladakh is onboard the central DBT Bharat portal. Advisor Narula apprised the Committee on the status of end to end digitisation of all schemes (CSS+UT Schemes) of Ladakh on the portal. Further, the Administration in collaboration with the DBT Mission, GoI is conducting workshops to train dealing officials for uploading data on the portal.
The Committee took stock of the increase in cybercrimes in the recent years due to the proliferation of the internet and focused on the need to strengthen the mechanisms to deal with such crimes, especially capacity building of law enforcement personnel.
On the issue of executing new inter-state routes, the Committee resolved to have extended deliberation with the concerned border sharing states and UTs in the future.