Advertisement Policy of the Administration of UT Ladakh updated to include electronic and digital media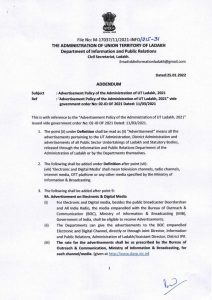 Leh, January 26: The Administration of UT Ladakh issued an addendum to the Advertisement Policy, 2021 today, stating that the electronic and digital media empanelled with the Bureau of Outreach & Communication (BOC) and Ministry of Information & Broadcasting (MIB), Government of India, shall be eligible to receive advertisements from the Departments of the UT Administration, District Administration and Public Sector Undertakings in Ladakh.
The rate for the advertisements shall be as prescribed by the Bureau of Outreach & Communication, Ministry of Information & Broadcasting, for each channel/media. (given at http://www.davp.nic.in)
The Advertisement Policy, 2021 which was issued vide a government order dated 11th March 2021, covered advertisement in newspapers and periodicals. There were demands from the television channels popular in Ladakh for inclusion of electronic and digital media under the Advertisement Policy of UT Administration.
Under the Advertisement Policy, a Panel Advisory Committee (PAC) was constituted, with Secretary, Information as Chair and Directors and AD IPR as members and two members from the print media, to consider the applications for empanelment. A number of newspapers published in Ladakh have been empanelled with the Department of Information and Public relations, UT Ladakh and have been getting advertisements from the Administration. The PAC also took the decision that newspapers and periodicals already empanelled with BOC, Ministry of I &B shall also be eligible for getting advertisements under this policy.