Administrative Secy reviews arrangements and preparations for first LG horse polo cup at Drass Kargil.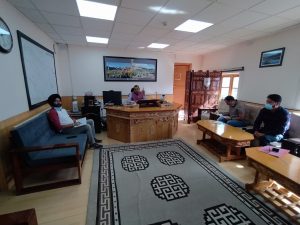 Leh, September 27, 2021: Ravinder Kumar, Administrative Secretary, Youth Services & Sports Department, UT Ladakh convened a virtual meeting with concerned officers at his office chamber, UT Secretariat today, In order to discuss the necessary arrangements and preparations related to the conduct of First LG Horse Polo Cup (2021-22) being organized by the Department of Youth Services and Sports, UT Ladakh in collaboration with Department of Tourism and Culture, UT Ladakh along with Polo Promotion Committee Drass under Azadi Ka Amrit Mahotsav which will be inaugurated on 29th of September 2021 and will continue till 5th of October 2021 .
Polo is a traditional game of Ladakh and in order to revive polo, the department is organising First LG Horse polo cup at Drass (2021-22), this will promote the sport among the youth of UT Ladakh. It will also promote the tourism sector and will bring Drass on the tourism map of India. Administrative Secy, stressed that the conduct of LG Polo Cup should be organised successfully and directed the concerned officers to put in place all the basic amenities during the conduct of the tournament.
Thread-bare discussion was held on various aspects of the tournament for the successful conduct of the LG Horse Polo Cup besides various decisions were taken in the meeting and responsibilities were allotted to concerned officials.
In this tournament, total number of 15 teams are expected to participate, 8 from Drass, 2 from Kargil and Chiktan block and 5 teams from Leh. The winners will be felicitated with trophy and a cash prize of Rs. 2.5 Lakh, certificates etc.
The meeting was attended by Chief Animal Husbandry Officer, Animal and Sheep Husbandry Department , Kargil; Deputy Secretary, Ladakh Cultural Academy, Kargil; Under Secretary, Department of Youth Services and Sports, Leh; DYSSO, Department of Youth Services and Sports, Leh; DYSSO, Department of Youth Services and Sports, Kargil; Chief Medical Officer, Kargil; Executive Engineer, PHE, Kargil; AD Tourism, Department of Tourism and Culture, Kargil; AEE, Power Development Department, Kargil; AEE, PWD (R&B), Drass; Executive Officer, Municipal Committee, Kargil.