ADM Leh reviews JJM progress in Leh and Khaltsi sub-division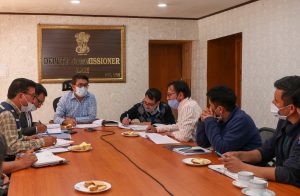 Leh, September 18: Additional Deputy Magistrate (ADM), Leh, Sonam Chosjor today convened a meeting to review the status of progress under Jal Jeevan Mission (JJM) of Leh and Khaltsi Dub-divisions.
He reviewed the village-wise status and the timeline for achievement of targets and directed the officials to complete the JJM work in schools and Anganwadi centres (AWCs) by the end of September. He also directed the concerned officials to complete the FHTCs within the specified deadlines.
ADM Leh was apprised of the issues and challenges faced in the implementation of JJM project and directed the officials to resolve the issues faced at the village level by conducting meeting with all the stakeholders, including Councillors, Sarpanches, Nambardars and villagers along with the Implementing Support Agency (ISA) representatives.
Chief Planning Officer, Leh; District Superintending Engineer, PWD, Leh; Executive Engineer, PHE, Leh; Assistant Executive Engineers and Junior Engineers of the concerned departments and representatives from Project Management Unit (PMU) were also present in the meeting.