Additional Secy Ministry of Rural Development reviews various schemes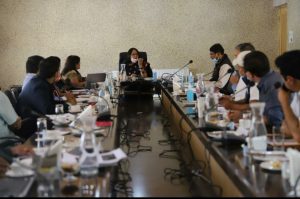 Leh, Sept 20, 2021: The Additional Secretary, Alka Upadhyaya, Joint Secretary, Nita Kejriwal and team of NRLM experts from the Ministry of Rural Development (Rural Livelihood Division), reviewed the DAY- National Rural Livelihood Mission (NRLM), RURBAN Mission, PMAY, PMGSYA, MNREGA at Leh today. Secretary, Rural Development, Ladakh, Saugat Biswas attended the meeting along with the Director RDD and Senior Officers of the Department.
This was a part of hand holding initiative by GoI for smooth implementation of various Rural Development Schemes including the Deendayal Antyodaya- National Rural Livelihood Mission (DAY-NRLM) and promoting SHGs in the Union territory through capacity building under NRLM.
Additional Secy, Alka Upadhaya, impressed upon the concerned Department that Human Resources are required at the block as well as at the district level to build the capacity & livelihood of Self-Help Groups (SHG).
She reviewed the various schemes and also stressed on involvement of SHG members in all these programmes. keeping in view the different geographical terrain of Ladakh, she asked the concerned officials to create SHG village organization or cluster level federation at the earliest.
Alka Upadhaya also urged on signing a MoU with various cooperatives and entrepreneurs of Ladakh, so that training can be conducted to beneficiaries through them. She also on brand desired for a focus on brand name registration.
Further, urged to give financial awareness to the beneficiaries and to increase the community fund. She further asked the department to explore possibilities to increase the amount that each SHG member gets which is an amount of Rs, 40,000. Also, directed the concerned officials to send the beneficiaries to exposure tour outside Ladakh.
Furthermore, Joint Secretary, MoRD Nita Kejrewal gave a presentation on Deendayal Antyodaya Yojana national Rural Livelihoods Mission and briefed about the poverty elimination, NRLM Framework, Mission Architechture, institution building and capacity building, SI-SD, FNHW, Gender & Convergence, Financial inclusion; financial inclusion interventions, SHG bank linkage over the years, key achievements, farm livelihoods, key intervention areas, key objectives, key achievements, day-NRLM support systems, SHG response to COvid-19 etc
Earlier, Secretary, Industries and Commerce, Saugat Biswas gave a presentation on National Rural Livelihood Mission (NRLM). Secretary Biswas briefed about the state at a glance, State of Institutional Set-up- SMMU/DMMU/BMMU/, proposed human resource structure, coverage/saturation status under NRLM, NRLM status in before & after formation of UT, financial inclusion, financial status & expenditure, issues and challenges, success stories, activities undertaken by members etc.
Similarly, SE, PMGSY Tashi Chombel gave a presentation on Pradhan Mantri Gram Sadak Yojna and briefed about the organizational structure of PMSSY,PMGSY-I, PMGSY-II, physical and financial targets PMGSY-I&II for the year 2021-22,quality control, MoRD share of funding, state/UT share of funding and payment to maintenance of packages under DLP.
Additionally, OSD to Secy Industries and Commerce, Zakir Hussain gave a presentation on SPM-RURBAN mission and briefed about the financial and physical status under SPM-RURBAN, focused intervention for cluster's economy; PMAY(G) targets and strategy; sanction and status of completion of houses permanent wait list, identification/removal of ineligible and job card mapping from Awass+ list.
The meeting was attended by Mission Manager, Farm Livelihoods, DAY-NRLM, Suhita Chakraborty; Mission Manager, IBCB&HR, DAY-NRLM, Prabhat Kumar; National Mission Manager Non-Farm Livelihoods, DAY NRLM, G.Vinod Nair; Senior FI Specialist, Financial Inclusion, DAY-NRLM, Sourav Roy; National Mission Manager & Anchor-UT Ladakh, DAY_NRLM, Vasudha Shukla; Director, Rural Development, (Mission Director, NRLM), Tahir Hussain; Assistant Commissioner, Development, Leh, Sonam Norboo; Assistant Commissioner, Development, Kargil; Ghulam Mohd and concerned officers.