ADC chairs meeting to review implementation of New Education Policy in Kargil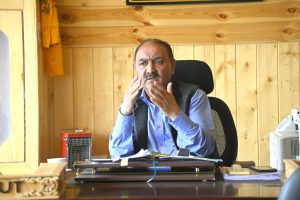 KARGIL, MAY 17, 2022: Additional Deputy Commissioner Kargil Ghulam Mohi-Ud-Din Wani today chaired a meeting at DC Office Kargil in order to review the implementation of New Education Policy (NEP) in the district.
Program Officer ICDS, Chief Education Officer, District Panchayat Officer, District Social Welfare Officer, Dr Wilayat Ali Sr. Lecturer DIET, language experts Syed Hadi Shah, Akhone Asgar Basharat, Muhammad Ali Bhutto and Ahmad Jawan were present during the meeting.
Threadbare discussions and deliberations were held on different aspects of implementation of NEP in the district and the ADC asked about the status of its implementation.
The ADC was informed that the training of teachers, merger of 32 Anganwadi centres to government schools has been completed and further 5,000 illiterates across the district have been educated.
The ADC called for robust approaches in the merger of ICDS centres and Government Schools and directed ICDS, Education and Panchayat Raj institutions to formulate the necessary survey and other activities in order to assess the merger of ICDS centres and government schools and directed to complete it before June 10, 2022.
At the meeting, it was decided that the district curriculum will be framed in accordance to the national level curriculum with some interventions as per the local needs and demands.
The ADC Kargil directed DPO Kargil to complete the certification process in order to show 100 percent enrolment in schools and Anganwadi centres across the district.