Acting CEC Razvi visits Zojila Pass, takes assessment of snow clearance works Visits Zojila tunnel, lauds efforts of officers, workers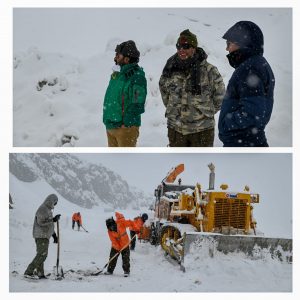 KARGIL, FEBRUARY 22, 2022: Acting Chairman and Chief Executive Councillor (CEC) LAHDC, Kargil, Aga Syed Abbas Razvi today visited Drass subdivision to take an assessment of snow clearance works on Zojila pass and also visited the northern portal of Zojila tunnel.
He took an assessment of snow clearance works on the national highway and interacted with the ground zero workers and technicians.
Razvi applauded them for their relentless services and dedication in clearing the highway despite harsh climatic conditions and heavy snowfall.
The acting CEC said that apart from the assessment of development works on Zojila Pass, the purpose of the visit was to meet the ground zero workers, understand their problems and appreciate their endeavors.
Razvi also visited the northern portal of Zojila Tunnel where he was informed by concerned officers that 1,100 meters of the tunnel has been dug from the side.
The officials also informed that ground staff and engineering wing are working dedicatedly to carry the construction works despite the climatic constraints. They added that the shaft work on the tunnel will be started by next month.
He congratulated the concerned officers of NHIDCL and MIEL for carrying the construction of tunnel works smoothly.
Razvi was informed by the concerned officer of 55 RCC Project VIJAYAK that till point 108 km highway is accessible for vehicular movement further all efforts from both the sides of Zojila Pass are being made in order to reopen the pass at the earliest.
The acting CEC also interacted with the labourers and gave a patient hearing to their demands and assured them necessary redressal on time.
He felicitated officials of VIJAYAK, NHIDCL and Ladakh Police with traditional Khataks and presented souvenirs among the workers as a token of appreciation.
Razvi was accompanied by Superintending Engineer Mechanical Division Ladakh, Om Prakash, SDM Drass Anwar Hussain, General Manager NHIDCL Kargil, Colonel AK Shiv Kumar, OC 55 RCC Project VIJAYAK, Satyam Kumar Rathod, SHO Drass Fazil Abbas Turtuki and other concerned officers.