A delegation of Rashtram School of Public Leadership calls on CEC Leh Discussed measures on good governance and public leadership in Ladakh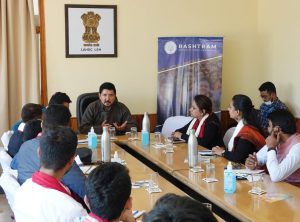 Leh, Sep 17: A delegation from Rashtram School of Public Leadership (RSPL) called on the Chairman/Chief Executive Councillor, LAHDC Leh, Advocate Tashi Gyalson today. An interaction session was also conducted in his chairmanship. Executive Councillor for Agriculture, LAHDC Leh, Stanzin Chosphel and the members of Rashtram School of Public Leadership attended the session.
CEC Tashi Gyalson interacted with the delegation and introduced them to the political history of Ladakh. He also apprised them of the formation and the importance of LAHDCs in functioning and practising grass-root democracy in the region. He shared the current scenario of developmental progress along with strategic policies to strengthen border areas and the challenges for the governing bodies for actively implementing projects in the region.
EC Agriculture Stanzin Chosphel also spoke on various initiatives undertaken by LAHDC Leh in the field of agriculture, art, culture and heritage preservation. He added that Hill Council Leh is working efficiently to improve the lifestyle, especially in the rural sector of Leh district, with the motive of good governance under the leadership of Chairman LAHDC Leh Tashi Gyalson.
Director, Academic Operations, Rashtram School of Public Leadership (RSPL), Dr Gunjan Rajput, extended her gratitude to the Chairman, LAHDC Leh for hosting the team at the Hill Council and briefing them about the governing functions of LAHDC Leh. She also informed the Chair that the RSPL works on nurturing self-aware and civilisational-assured public leaders. She added that the current team is on an exposure visit to the UT of Jammu and Kashmir and Ladakh under the banner of 'Good Governance Yatra'.