72nd Constitution Day celebrated at GDC Drass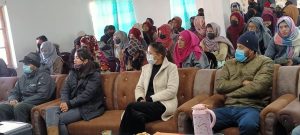 KARGIL, NOVEMBER 26, 2021: Government Degree College (GDC) Drass organised a day long programme to celebrate the National Constitution Day, 2021 at the college campus here today.
chairperson, Tehsil Legal Services Committee (TLSC) Drass Deldan Angmo was the chief guest on the occasion while Assistant Professor Sociology Haider Ali Askary, staff members besides students were present during the event.
Chairperson TLSC Drass Deldan Angmo while addressing the students about the importance of the Indian Constitution said that it is an inclusive book which safeguards our legal rights and other important aspects that govern our judiciary and legislature. She also elaborated on the true meaning of the Preamble of the Constitution and in a very interactive manner explained about how important the Indian Constitution is for every policy and bill which comes up, adding she urged the students to actively take part in all such activities and become responsible citizens of tomorrow.
Assistant Professor Sociology Haider Ali Askary welcomed the chief guest, staff and students.
Earlier, the event commenced with the mass reading of the Preamble of the Indian Constitution, followed by a debate competition on the theme-Constitution of India in which 10 students from the college participated. The participants spoke about the importance and facts about the Constitution besides the central theme of all the speeches was the magnanimity and the all encompassing feature of the Indian Constitution.
Syed Mehmood Shah, Jawad Altaf and Khairun Nissa bagged the 1st, 2nd and 3rd positions respectively in the debate competition.
Cash prizes and certificates were distributed among the winning and participating students by the dignitaries.
The proceedings of the daylong event were conducted by Lecturer Zoology Padma Dolkar and Lecturer Urdu Liyaqat Ali while Lecturer History Dechan Angmo delivered the vote of thanks.