72nd Constitution Day celebrated at Council Secretariat LAHDC, Kargil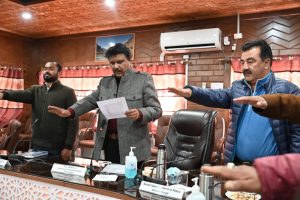 KARGIL, NOVEMBER 26, 2021: The 72nd anniversary of the adoption of the Constitution of India (Constitution Day/Samvidhan Divas, 2020) was today celebrated with great patriotic fervour and zeal at Council Secretariat LAHDC, Kargil.
Executive Councillor for Tourism Er Phunsok Tashi in presence of the Executive Councillor for Works Aga Syed Abbas Razvi, Executive Councillor for Health Mohsin Ali along with the Councillors and staff members of the Council Secretariat read out the Preamble of the Constitution on the occasion and expressed their resolve to strengthen the ideals of the Constitution.
The EC Tourism while speaking on the occasion said that the preamble of Indian Constitution declares India as a sovereign, socialist, secular and democratic republic and aims to secure justice, liberty, equality to all citizens and promote fraternity to maintain unity and integrity of the nation.
EC Tashi also highlighted the contribution of the architect of the Constitution of India, Bharat Ratna, Dr Bhim Rao Ambedkar who was also the Chairman of the Constitution Drafting Committee stressed on the need to uphold and protect the sovereignty, unity and integrity of India and ideals and institutions included in the Constitution.