5th Bn ITBP flags-off students from Changthang region for Bharat Darshan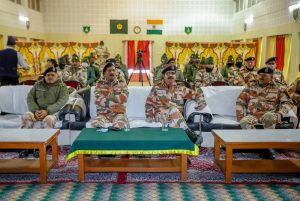 Leh, March 22: A total of 25 students from the Changthang region are selected for Bharat Darshan Tour 2021-22 organised by the 5th Battalion Indo-Tibetan Border Police (ITBP) under its Civic Action Programme.
A flag-off ceremony was held at Drona Hall of 5th Bn ITBP today in presence of Deputy Inspector General (DIG), North West Frontier, M Kumar; DIG Sector HQ Ladakh, Sandeep Khoshla; DIG, NWF, C.R. Jat; DIG, NWF, R K Verma; Commandant 5th Bn, D Justin Robert; Second-in-Command, Gautam Sharma and other officers.
Chief guest, DIG, NWF, M Kumar shared that the Bharat Darshan tour would be a great learning experience and an opportunity to broaden the horizons of the mind. He instructed the students to learn and share their experiences on their return. He also instructed the students to strictly adhere to Covid Appropriate Behaviour during the tour.
A cultural performance was also presented by the students.
The 25 students selected for the Bharat Darshan are residents of Durbuk, Tharuk, Tangste, Shyok in Changthang region. They would be accompanied by two teachers along with two ITBP officials on this tour. During the tour, the team would visit important places of interest, historical places and monuments of the State/UT. They would also meet with the Director General, ITBP at ITBP HQ in Delhi.
The tour would commence from March 23 to 29 from Leh to Vadodara, Kevadia, Somnath (Gujarat) and Diu via Delhi. The objective of the tour is to know more about our country, to enhance the knowledge of the students by visiting different places of the country and also to develop a mutual relation between security forces and the civilians and to let them experience the feeling of unity in diversity of our country.