4468 passengers availed subsidised air services in 2021-22 in Ladakh Online bookings ensured transparency and convenience to people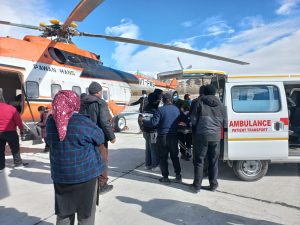 Leh, April 6: In a press statement issued from the Civil Aviation Department of Ladakh, it has been stated that during the winters of 2021-22, 4468 passengers were airlifted in around 90 sorties. The An-32 operated in Jammu-Kargil and Srinagar-Kargil sectors. This year the operations of An-32 were made online through the ticketing portal of the Civil Aviation Department of Ladakh. All bookings, cancellations, and rescheduling of the operations were online thereby ensuring complete transparency, complete digital transactions, and convenience to the general public. Around 350 senior citizens and 700 women availed the services. Every year the UT Administration presses the Indian Air Force An-32 into operation during the winter months.
In the subsidised helicopter service of the UT Administration, 2360 passengers availed air services. The UT Administration operates two choppers under the subsidised air transport service. During the financial year, the helicopter service provided medical evacuation facilities to 53 emergency cases who were required to be shifted to tertiary medical care hospitals outside the UT of Ladakh. Medical evacuations, concerning labourers and the economically weak were undertaken without any cost, the department informed.