4 day workshop on implementation of Jal Jeevan Mission concludes in Kargil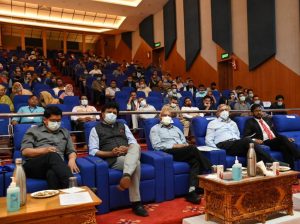 KARGIL, JULY 25, 2021: 4 day workshop on implementation of Jal Jeevan Mission concluded at Kargil here today.
LG Ladakh R K Mathur who was the chief guest on the occasion announced Rs 5 lacs per village for the first 5 villages of Leh and first 5 villages of Kargil district which will achieve 100% completion of JJM works.
He further announced Rs 25 lacs each for the first block of Leh and Kargil District which will complete 100% completion of the JJM works.
The LG on the occasion also launched the Jal Maah (Water Month) in the UT which will run at the Block and Panchayat level in 2 phases- 1st phase from 1st to 15th and 2nd phase from 16th to 30th August, 2021.
CEC, LAHDC, Leh Advocate Tashi Gyaltson, CEC, LAHDC, Kargil Feroz Ahmad Khan, Advisor to LG Ladakh Umang Narula, Commissioner/Secretary PHE and I&FC Ladakh Ajeet Kumar Sahu, Director National Jal Jeevan Mission Pradeep Singh, team from JJM, GoI, Councilors of LAHDC Kargil, BDC Chairpersons, engineers and officials of PHE Department were present on the occasion.
Speaking on the occasion, the LG while congratulating PHE Department Ladakh for successful conduct of the 4 days workshop said that a certain mental change has come up among the stakeholders associated with JJM and there is hope of achievement.
Highlighting the importance of water in sustenance of civilizations, LG Mathur said that no civilization can survive without water, and in case of Ladakh there are many examples when a whole village has migrated due to its unavailability. He said that water is life. There is no scarcity of water in Ladakh and we have sufficient sources of water in the form of glaciers, permafrost, surface water, underground water, lakes to fully meet our needs of drinking and irrigation.
LG Mathur said that a lot of changes are happening in Ladakh after the formation of UT, and people are moving in a direction to catch up with the new trends in civilization. However, sometimes we tend to forget that it was our tradition that our villages would manage themselves. We need to preserve this tradition and keep the ownership of everything in our own hands which is a part of our legacy. He said that only a healthy mix of technical and social solutions along with the sense of ownership can make this mission successful.
The LG said that it is this attitude with which we need to make collective efforts to contribute our bit towards the successful implementation of JJM in Ladakh, and make the targets achievable within the stipulated timeline. He said that this mission is achievable in Ladakh by 15th August 2022, and he is sure about the fact that it will be done by the collective efforts of all stakeholders.
LG Mathur stated that the provision of water to households in prescribed quantities will do away the wastage of time and energy in fetching water from outside home which will pave the way for productive activities at home like handicrafts, knitting and other productive works leading to economic prosperity of the people.
CEC, LAHDC, Kargil extending gratitude to UT Administration Ladakh for conducting such a resourceful workshop to boost the confidence of various stakeholders involved with JJM expressed hope that the target LG Ladakh has given to the stakeholders will be achieved well before the stipulated time keeping in view the new vision and roadmap which has come up with this workshop, where the participatory sessions have yielded satisfactory results, and now there is a great deal of clarity for the future course of action.
The CEC Kargil also announced that the PRI members, BDOs, AEEs and other concerned stakeholders of those villages who will achieve 100% targets between 15th August, 2021 to January, 2022 will be honored on the Republic Day, 2022.
CEC Leh advocate Tashi Gyaltson thanked the UT administration Ladakh for organizing the workshop and exuded optimism that the achievement of targets now seems to be doable considering the dedication of the stakeholders who participated in the workshop. He said that for Ladakh it was previously just a dream to have water supply connection to every household, and now with the implementation of JJM this dream is going to be a reality which calls for sincere efforts from all of us. Adding he said that contractors should accord priority to JJM works which would be a social contribution from their side.
Addressing the concluding session, Advisor to LG Ladakh Umang Narula said that there needs to be a psychological conviction that delivering through pipeline connections in winters in Ladakh is possible, and success of JJM largely depends on the conviction and involvement of community members including the public representative and PRI members. He said that with progress in terms of social and attitudinal infrastructure, Ladakh can emerge as a case study and example for cold mountainous areas, adding he said that funds will be kept for maintenance and sanitation of drinking water infrastructure in the next year's budget.
The Advisor also expressed gratitude to the Ministry of Jal Shakti, Government of India for deployment of teams to chalk out solutions to local problems and challenges. He also thanked the LG Ladakh for personally monitoring the progress of JJM and the CEC's of both Hill Councils for their commitment and steps to fast pace its implementation in both districts.
Director National Jal Jeevan Mission Pradeep Singh in his address spoke about re-engineering and social engineering, people's leadership, plans and way forward and other related aspects of the workshop. He also said that with the successful conduct of the workshop, a positive atmosphere has now been created which will see responsive leadership at the local level.
Earlier, while giving a presentation on the proceedings of the 4 days workshop, Commissioner Secretary PHE and I&FC Ladakh Ajeet Kumar Sahu apprised the LG Ladakh and other dignitaries about the constraints highlighted by the AEEs, JEEs, BDC Chairpersons, Third Party Inspection Agencies and Implementing Support Agencies and the future road map including the fast tracking of physical progress and expenditure booking, awareness/ competition through Pani Panchayat, district workshop, JE wise performance monitoring, quality of water through source testing, NABL accreditation and establishment of new labs and implementation issues including the audit of expenditure for the financial year 2019-20 and 2020-21 and update of JJM/ IMIS and Geo-tagging.
Meanwhile, during the sessions held on the final day of workshop today Mission Director, Jal Jeevan Mission Bharat Lal addressed the workshop through video conferencing while the National Jal Jeevan Mission (NJJM) Team gave presentations on IEC Activities, Technological Solutions, Best Practices, IMIS, IoT Implementation and other related aspects.
There was also a presentation by Indian Institute of Sustainable Development on Water Quality Monitoring and Testing and a presentation by the NJJM Team on Contract Management and Tendering, Procurement, Regularization of Unregistered Connections, Provision of FHTC to villages with less than 50 households, Community awareness and participation, Functional assessment by UT and allied topics and open discussion among participants as well as a question answer session.