2 days training programme on PFMS & MIS under NRLM concludes in Ladakh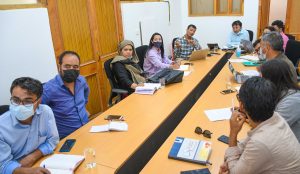 Leh, July 30, 2021: Two days training workshop on Public Financial Management System (PFMS) & Management Information System (MIS) under National Rural Livelihood Mission (NRLM) was conducted by team of experts from the Ministry Rural Development (Livelihood Division) GOI to all the officers connected with NRLM at UT Secretariat Leh from 29th July 2021 and it concluded today 30th July 2021.
The participants were informed about the various procedure operating of PFMS & MIS under implementing in NRLM like mandate for PFMS, Implementing authority; main modules of PFMS; expenditure filing; objective of expenditure filing; steps involved in expenditure filing; expenditure filing modules; opening balance; reversal entry; receipt of funds; receipt from state govt; interest income; investment details; income from outer sources; transfer of funds; bulk customization; advanced payment; expenditure etc.
Team of experts further said that this training workshop is just a beginning, and such workshops will be held again for imparting training to the beneficiaries under NRLM and field level officers also.
The training workshop was attended by officers from both Leh & Kargil including Senior Accounts Officer with Secretary RD&PR department, Stanzin Donsal; OSD to Secretary, PD&PR Deptt; Tsering Wangchuk, BDO Chuchot/ Thiksay; Dorjay Gyalson, BDO Panamik; Asgar Ali, BDO Kargil; Yasir Hussain, BDO Sankoo; Mohd Hussain, AAO, Directorate of Rural Development; Stanzin Youtok, AAO, ACD office, Leh; Firdous Ahmad, Accountant, ACD office, Leh; Jigmet, BPM, NRLM, Leh; Zahra Batool, BPM, NRLM, Kargil; Murtaza Ali, State MIS Coordinator.