2-day workshop on effective implementation of Juvenile Justice Amendment Act 2021 in UT Ladakh concludes in Kargil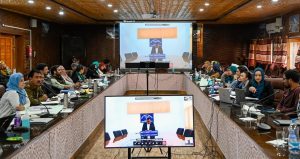 KARGIL, MAY 11, 2022: The two-day workshop of duty bearers of ICPS, legal services authority, police and other functionaries organized by Juvenile Justice Committee, High Court of J&K and Ladakh in collaboration with Social Welfare Department UT Ladakh supported by UNICEF India to impart awareness for effective implementation of Juvenile Justice Amendment Act 2021 in Ladakh concluded today at Kargil.
Commissioner Secretary Social Welfare, Education and Technical Education, UT Ladakh Padma Angmo attended the concluding ceremony virtually. She thanked the organizers, resource persons and trainees for successfully conducting the workshop.
The Commissioner Secretary said the workshop helped concerned officials and trainees to gain in depth knowledge of the importance of the Juvenile Justice Amendment Act 2021 for its implementation in UT Ladakh.
Secretary Padma stressed on the need to understand the spirit of the Juvenile Justice Act for better understating and proper implementation of the law on ground.
Regarding the awareness of the Act, she said a mass campaign will be run to educate the general masses and assured that in future, more such workshops will be conducted at a larger scale for the sensitization of officials from the concerned departments.
Secretary Padma highlighted the role of DLSA and other associate departments in the effective implementation, functioning and delivering justice, providing protection and care for Juveniles. The Commissioner Secretary urged all the departments to work in close coordination with each other so that the objective of the law is fulfilled.
Member Secretary, Juvenile Justice Committee, High Court of Jammu and Kashmir and Ladakh, Abdul Rashid Malik, who joined the workshop virtually, also thanked the participants, organizers for conducting such a resourceful workshop.
He requested all the stakeholders to fulfil their constitutional duties and responsibilities in letter and spirit. Stressing on the role of concerned officials, he said care and protection of children in conflict with law and children who need care, protection is the responsibility that needs to be fulfilled.
He requested resource persons to draft a detailed report which would highlight issues related to implementation of Juvenile Justice Act in Ladakh for higher administrative perusal. Stressing over the need of collective efforts for the effective implementation of Juvenile Justice System, Malik said JJA can't be implemented in isolation. He said coordinated efforts of all departments including Health, Police, ICPS, Education and others will help in effective implementation of JJA in districts.
Reiterating the role and responsibility of Child Welfare Committee (CWC) in taking care of children, who need protection and care, he stressed to develop a conducive and sustainable mechanism for the betterment of their (children) future in the society.
He appreciated the efforts of the Commissioner Secretary UT Ladakh, resources persons, support team from UNICEF India and other departments for successfully conducting the workshop.
Later, resource persons that include Bharti Ali from HAQ Organization and Nimisha Srivastava from Counsel to Secure Justice, gave a detailed presentation on procedures in relation to children in need of care and protection, offences against children, miscellaneous issues, rehabilitation and reintegration of children, procedures and other important aspects. The concluding day of the two-day workshop ended with group assignments, discussions and doubt clearing sessions.