2-day workshop of duty bearers on implementation of Juvenile Justice Act, 2015, supported by UNICEF concludes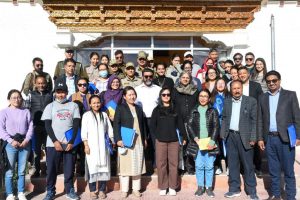 Leh, May 14: The two-day workshop of duty bearers on the implementation of the Juvenile Justice Act, 2015, supported by UNICEF concluded on Saturday, at DC Conference Hall, Leh. Abdul Rashid Malik, PDSJ and Member Secretary, J&K and Ladakh High Court Committee on Juvenile Justice addressed the workshop and lauded the UNICEF resource persons and social welfare department on the successful completion of the workshop. He reiterated that implementation of the Juvenile Justice Act is a sacred duty of all. He urged the UNICEF delegation to conduct more such workshops wherever possible.
Day 2 of the workshop began with discussions on case studies related to juveniles and procedures in relation to Children in Need of Care and Protection (CNCP). The groups were made to work on different case studies and present their assessments to the forum for input. The process of rehabilitation and social reintegration, as well as institutional and non-institutional actions, children's homes, adoption, and offenses against children/ miscellaneous issues, were discussed in detail.
In the concluding remarks, Tehsil Social Welfare Officer (TSWO), Leh, Thinles Dorjey extended his gratitude to resource persons Bharti Ali (Executive Director HAQ Center for Child Rights), Nimisha Shrivastava (Executive Director, Counsel to Secure Justice), Manna Biswas (Child Protection Officer) and Shruti Prasad (Consultant) for the comprehensive and interactive workshop that benefitted all the participants. He exhorted that no violation of child rights should occur and added that with this training the officials will be better prepared to deal with any situation with respect to CNCP successfully and sensitively according to the law.
The workshop was also attended by DLSA Secretary, Leh, Phunstog Angmo; Principal Magistrate JJB Leh, Chemat Yurgyal; Chairperson, Child Welfare Committee, Nima Stanzin; besides members of CWC, JJB, District Child Protection Unit, Ladakh Police and other stakeholders.