2 Day Capacity Building Programme on General Financial Rules, Public Procurement begins in Kargil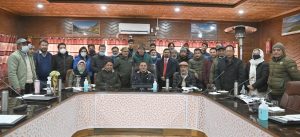 KARGIL, NOVEMBER 22, 2021: 2 Day Capacity Building Programme on General Financial Rules for government officers and officials presently dealing with procurement of goods, works and services began at Conference Hall Baroo here today.
The capacity building programme has been organised by the Indian Institute of Public Administration (IIPA) in collaboration with the General Administration Department, Union Territory of Ladakh.
Director General IIPA, S N Tripathi virtually inaugurated the session from Leh and Programme Coordinator Dr Surabhi Pandey coordinated the session online.
Superintending Engineer PWD Kargil Er Tashi Tundup, Assistant Commissioner Development Ghulam Muhammad, Executive Engineer R&B-II Kacho Mehmood Ali Khan, Executive Engineer Suru Valley Division Shabir Hussain, Executive Engineer PMGSY Tsering Phunsok, District Social Welfare Officer Aga Syed Jamal, Block Development Officer Sankoo Kaneez Fatima, AEEs and AEs of concerned departments besides officers and officials of other departments attended the training session.
During the course of the session held today, trainer Shrish Ojha gave a detailed presentation on General Financial Rules, 2017 on procurement of goods. He also discussed the model Request for Proposal (RFP) template for procurement of goods and services.
It was informed on the occasion that the objective of the training sessions is to sensitize the participants about the changes made in the orders in GFR 2017 relating to public procurement, procurement of goods with government fund, Contract Management, e-Procurement, GeM and Budget Grant-in Aids and Bank Guarantees etc. so that they can perform their duties and functions properly and efficiently.
It was given out that the General Financial Rules (GFRs) are a compilation of rules and orders of matters of the Government of India to be followed by all while dealing with matters involving public finances. These rules and orders are treated as executive instructions to be observed by all departments and organisations under the government and specified bodies except otherwise provided for in these rules.
Pertinently, General Financial Rules were issued for the first time in 1947 bringing together in one place all existing orders and instructions pertaining to financial matters. These have subsequently been modified and issued as GFRs 1963 and GFRs 2005.The Government in the last few years has increased focus on Public Finance Management System (PFMS) and reliance on the Direct Benefit Transfer (DBT) Scheme to ensure efficient delivery of entitlements and the introduction of new e-sites like Central Public Procurement Portal, Government e-Marketing (GeM) Portal, Non-Tax Revenue Portal have also necessitated revision of the existing GFRs to keep them in tune with the changing business environment.