1st Ladakh MSME Business Investment and Job Creation Expo 2021 concludes in Leh Union Minister Parshottam Rupala guest for the inaugural ceremony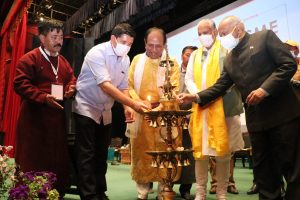 Leh, Oct 06: The 1st Ladakh MSME Business Investment and Job Creation Expo 2021 concluded today at Sindhu Sanskriti Kendra, Leh. The two-day Entrepreneurship Development Conclave was organised by the MSME Development Forum in collaboration with the Department of Industries and Commerce, UT Ladakh.
Union Minister of Fisheries, Animal Husbandry and Dairying (FAHD), Government of India, Parshottam Rupala inaugurated the event in the presence of Lieutenant Governor, Ladakh, R K Mathur; CEC/ Chairman, LAHDC Leh, Adv Tashi Gyalson; Executive Councillors, LAHDC Leh and dignitaries from various government and non-governmental organisations and concerned officers from the administration of UT Ladakh.
Appreciating the collaborative efforts of the organisers for hosting and promoting such a crucial event in Ladakh, Union Minister for Fisheries, Animal Husbandry and Dairying, GoI, Parshottam Rupala, shared that the event would provide a platform for the youths to explore better opportunities.
Union Minister Parshottam Rupala sanctioned the proposed development of trout fish farming and hatchery in the Nubra sub-division worth Rs 2.30 crore. He also approved the proposed skill training and capacity building centre in Diskit, Nubra, and developing trout fish feed mill in Ladakh. He hoped that UT Ladakh would proactively implement the central government schemes and assured to provide all the necessary support.
Lieutenant Governor, Ladakh, R K Mathur, expressed his gratitude to the Union Minister Parshottam Rupala for his assurance to extend all possible help for Ladakh.
Reiterating the Prime Minister's vision for Ladakh to develop as a carbon-neutral state, Lt. Governor Mathur stated that the focus of development in Ladakh would be the primary sector. "In Ladakh's endeavour to develop its primary sectors viz animal husbandry, dairy and fisheries, the much-required handholding would be provided to the entrepreneurs of Ladakh," stated LG Mathur.
Lieutenant Governor also spoke of the potential of the youth of Ladakh and stated that there are numerous avenues that one can explore successfully with the right technical support and handholding.
Addressing the gathering, CEC, LAHDC Leh, Tashi Gyalson expressed his gratitude to the Union Minister for gracing the inaugural session of Ladakh MSME Business Investment and Job Creation Expo in Leh. He stressed the need for a specific single-window system for the young entrepreneurs and producers to overcome certain challenges they have been facing to date.
He also spoke about several initiatives from the Hill Council to encourage entrepreneurs and promote local products in the region.
Earlier, Chairman, MSME Development Forum, Rajnish Goenka, in his welcome address, expressed gratitude to the Union Minister Parshottam Rupala, UT Ladakh Administration and LAHDC Leh for their support in conducting the 1st Ladakh MSME Business Investment and Job Creation Expo 2021. He added that the event aimed to promote and spread awareness on MSME schemes in the border areas like Ladakh for encouraging the youths towards entrepreneurship development.
Similarly, Deputy Managing Director, Small Industries Development Bank of India (SIDBI), VSV Rao, highlighted the role of SIDBI in financing and promoting MSME schemes and entrepreneurship development. He urged the entrepreneurs to come forward and avail the support of SIDBI.
Meanwhile, resource persons from different government and non-government organisations held technical sessions and panel discussions on various topics, including Opportunities in FAHD and Bank Loans, and Funding and Investments opportunities/ Schemes in MSME. It was followed by a questions and answers session with the participants.
On the second day, Moses Kunzang, Director, Industries & Commerce Department, Rohit Lamba, Brand Head Jindal Steel & Power and Head of Sales Jindal & Power spoke on 'Steel & Energy: The key players of Ladakh'.
Addressing the audience, Director Industries and Commerce, Moses Kunzang informed that soon Ladakh will have its own Industrial, Land allotment and start-up policies. He informed that an Entrepreneurship Development Institute will be established in Ladakh and will tie up with several prestigious institutes in India. Further, he informed that local products like Pashmina wool, Apricots and Seabuckthorn will get Geographical Indication (GI) tags which will help in marketing these products.
Brand Head-Jindal Steel & Power, Rohit Lamba shared that the Steel industry is the number one industry that generates employment. If Jindal Steel & Power is given an opportunity in Ladakh, the locals will benefit and get job opportunities.
Similarly, a conversation was also held with Rajnish Goenka and a session was held on the Policies and Schemes of MSME's. Also, a presentation on MSME Policies & Schemes was presented by Deputy Director, Harish Yadav.
Project Director, PPDC Mir Altaf Ahmed announced the creation of a camp office of Extension Centre Srinagar at Leh. Also, informed that all the courses will be provided free of cost for the people of Ladakh.
In the post-lunch session titled, ' Explore Ladakh (Business Opportunities in Ladakh') Director DRDO Ladakh, Dr O. P Chaurasia spoke on the role of DRDO in Emerging Sectors and Growth. Dhananjay Kumar Singh, Member Board – NCDC also spoke in the post-lunch session. Convenor MSME-DF Ladakh Chapter, Tashi Khachu also addressed the audience.
At the end of the session, an interaction session was also held.
Later, Secretary, Industries & Commerce, Saugat Biswas thanked the MSME forum and all the participants who came to guide the youth of Leh.