10-day cultural revival workshop concludes at Darchiks-Aryan Valley EC Razvi congratulates people of Aryan Valley for shining at global cultural programs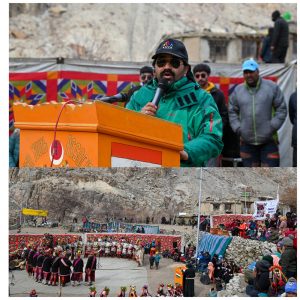 KARGIL, FEBRUARY 28, 2022: A ten-day-long Cultural Revival Workshop on different forms of Ladakhi music including folk songs, Daman, Surna and Dingtang, organized by Ladakh Academy of Art, Culture and Languages (LAACL) Kargil, in collaboration with different cultural organizations of Aryan valley concluded today at Darchiks-Aryan Valley.
Executive Councilor Works, LAHDC Kargil, Aga Syed Abbas Razvi was the chief guest on the occasion. Officials of LAACL Kargil, PRI members, senior citizens, workshop instructors, trainees, folk artists and cultural enthusiasts also attended the event.
On the occasion, EC Razvi, on behalf of LAHDC Kargil, congratulated the LAACL Kargil for organizing the workshop in Darchiks. "It is overwhelming to see people of this area have preserved and continued their unique cultural legacy," he said.
Razvi said in this regard, LAHDC along with concerned departments have always tried to preserve and explore tangible and intangible cultures across different corners of the district.
Underlining the importance of cultural preservation and communal harmony, EC Razvi said Ladakh is known across the world for its syncretic and pluralistic values and it is our responsibility to maintain this feat.
EC expressed happiness over the participation of trainees from different age groups and asserted to keep a balance between progressive thinking and traditional values.
Razvi congratulated the people of Aryan Valley for shining at global cultural programs by participating in cultural events at the United Arab Emirates.
In his welcome address, Assistant Culture Expert, Muhammad Abbas Skit said the workshop is aimed to revive culture of the area and provide training to artists on different aspects of traditional Ladakhi music.
Folk groups of Darchiks, Garkone, Sanache, Hordas, workshop trainees, folk artists of Wakha, Drass and Aryan Valley presented solo and group-based folk songs which enthralled the audience.
More than 40 trainees from Aryan Valley and adjoining villages participated in the workshop. They were given training about the nuances of folk tunes and songs from 7 seasoned musicians and experts.
EC Razvi felicitated the participants with participation certificates and mementos.
On the occasion, traditional foods, culinary tools, utensils, textiles, rare agricultural and livelihood tools of Aryan Valley were also put on display.
Assistant Culture Expert, Tsewang Rigzin conducted the program proceedings and presented vote of thanks. He expressed gratitude to all stakeholders and people of Darchiks-Garkone for making the event successful.